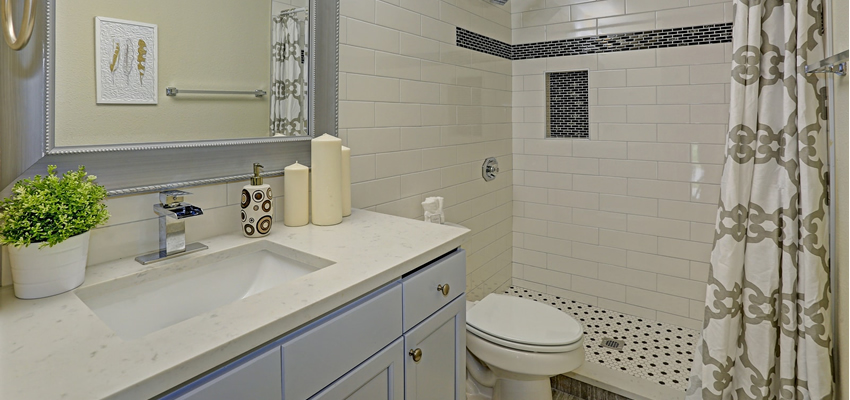 Tile & Shower Surrounds Refinishing in Florida
Do you have unsightly or damaged tiles in your kitchen or bathroom? Are the tiles in your home or office chipped. cracked or faded? No matter the location, broken, chipped and faded tiles are a quick and easy way to lower the potential value of your home or office. Looking to replace it? Refinishing your ceramic tile on your walls or countertops is both, economical and practical alternative to replacement. 
Buying replacement tile can be expensive, and the process of removal and installation can be a hassle. If you have chipped or cracked tile in your home or are looking to update the color of your tile for a more modern look, call Celtic Tub Refinishers today and ask us about our bathroom tile resurfacing services. 
Completely replacing your bathroom or kitchen tiles are typically a last resort for most home owners. Complete replacement guarantees days of inconvenience, dust over everything and grout streaks that are difficult to clean. Why not simply REFINISH it? Refinishing your home of office bathroom fixtures, bathtub, kitchen counters, tile or shower enclosures instead of replacing them is a faster, less invasive, more economical way to breathe new life into your living spaces. Give us a call today for a free estimate!
Refinishing Eliminates Caulk & Grout Lines
Tired of cleaning the grout lines in your bathtub or shower? Caulk and grout are both naturally porous materials, and are prone to collecting mold and mildew which can be difficult to clean. By combining the process of bathtub refinishing with bathroom tile resurfacing, Celtic Tub Refinishers can eliminate those hard-to-clean caulk and grout lines, thus improving the appearance of your bathroom and making your cleaning chores a bit easier. 
Prior to the refinishing process, we will repair any damaged or missing caulking between the bathtub and the tile surround. Then, we can refinish both the tile and the bathtub simultaneously, creating a uniform, water-tight coating. There will no longer be any exposed caulk or grout lines, eliminating the possibility of mold or mildew build-up in those areas.
Celtic Tub Refinishers, Inc. also performs fiberglass repair and acrylic wall surround refinishing. In most cases our reglazing compounds are superior in durability than the original manufacturer specifications.
Acrylic & Fiberglass Surrounds
Celtic Tub Refinishers can also repair and refinish your damaged or faded acrylic or fiberglass bathtub surrounds. In most cases, our reglazing compounds are superior in durability to the original manufacturer specifications, and you will also notice an increase in the luster of your bathtub or shower surface. On top of that, your surround will be easier to clean after the refinishing process!
For more information about our bathtub refinishing services or to schedule an estimate, call us today.